Junior & High School Combo Summer Camp
July 9th-14th, 2023
Summer Camp at Sugar Pine is going to be AWESOME! Join us for incredible chapels, sweet worship, and exciting recreation.
We will have the Ropes Course and Zipline going, fun games and tournaments, archery, BB guns, swimming, gaga ball and so much more! Connect with others and grow closer to the Lord on this mountaintop at Sugar Pine.
Youth Speaker & Worship Team Info Coming Soon!
Exciting Activities
High Ropes Course
Archery Tag
Zip-line
BB Guns & Archery
Swimming Pools
Gaga Ball
Canoes
Night Games
Bouldering Wall
Disc Golf
and so much more!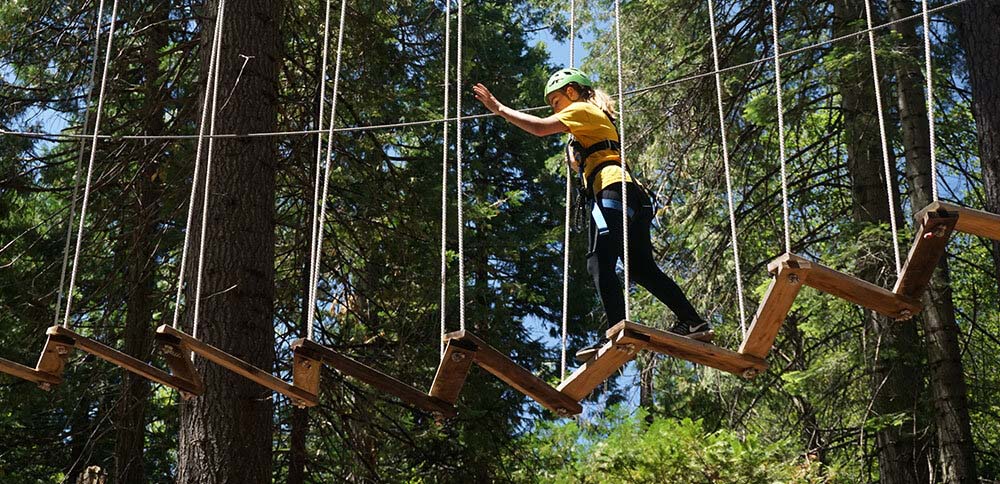 Pricing and Registration
Student: $560
Adult: $280
Pastor/Leader: Free
– Pricing for adults is good for 2 adults per cabin, after that, full price rate
– 1 Kids Leader/Pastor is free with 10 campers registered
– Junior Leaders are charged full price
– No Counselors will be provided from the camp
Prepare for Youth Summer Camp
Top
What to Bring
Sleeping bag/bedding, pillow and towel
Bible, notebook and pen
Personal Items: soap, deodorant, shampoo, etc.
Casual clothing. Please dress modestly while at Camp Sugar Pine
Closed toe shoes: boots/tennis shoes
Flashlight with new batteries
Insect repellent
Spending Money for the Old Mill Cafe and additional Adventure Recreation activities
Casual modest clothing: warm and cool clothing, jacket
Sunscreen, sunglasses, modest swimwear. No bikinis unless worn with a colored T-shirt.
Any prescribed medicine must be in its original container. Please clearly label all medications.
Top
What Not to Bring
Personal Sports Equipment
Vehicles
Tobacco, drugs, or alcohol
Computers, tablets or gaming devices
Inappropriate reading material or pictures
Fireworks, matches, lighters
Weapons: knives, airsoft guns, etc
Pets
Any camper caught with any of these items will have the items immediately confiscated and may be sent home.
Physical/Mailing Address
48478 Mill Canyon Road
Oakhurst, California 93644
(559) 683-4938
Office Hours
9:00 am-4:00pm – Monday-Friday